The Blood Pressure Hoax That's Putting Your Heart, Health And Life — At Risk…
Thursday, August 18, 2022
Dear Friend,
Doctors don't know what is causing high blood pressure in 85% to 95% of their patients! That means… you could be doing things right now that unknowingly contribute to your high blood pressure problems — and damage your health.
Today, let's uncover the myths surrounding hypertension and get to the real truth — so you can get your blood pressure under control, even if you've been struggling with it for years!
Keep reading below to discover…
Why you must keep an eye on your blood pressure — even if you feel fine…
The limitations (and dangers) of prescription drugs — and why they're not a permanent blood pressure fix…
How stress reduction is the key to a healthy heart and happy life…
The worst exercise for blood pressure — and the kind of exercise you should do…
Foods that lower blood pressure — counting calories not required…
And much more!
According to the American Heart Association, a whopping one in three adults has high blood pressure — that's a total of 77,486,000 people.
The scary thing is… almost 20 million of those folks are totally unaware of it.
Now that bothers me. My name is Margaret Cantwell, and as Managing Editor of Easy Health Options®, I've seen what high blood pressure can do to you if left untreated. You could be at risk of heart attack, heart disease, stroke, kidney failure — and a boatload of other potentially life-threatening diseases.
But even if you're aware that your blood pressure is too high…
…If you don't know what's causing your hypertension in the first place — and most doctors couldn't tell you because they don't know either — how are you supposed to properly treat it?
If your doctor has his way, you'll be popping blood pressure pills for the rest of your life. And considering how dangerous the side effects of some of those medications can be, that's just not a good option.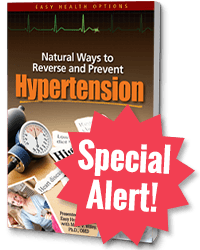 That's why we've published a Special Easy Health Options® Alert — Natural Ways to Reverse and Prevent Hypertension.
This exclusive report blows the lid off the myths surrounding hypertension and gives you easy, effective strategies for controlling your blood pressure — safely and naturally… no doctors or medication required.
Here's just a sample of what you'll discover in this must-read Alert…